Hi everyone!! It's Fiona here for Memory Spark Monday. I was looking through some old photos I have, well actually not so old, but anything from before I had a digital camera, I consider old. LOL. So while looking through them I found some pics of our home as it was being built. I realized that I had never scrapped about this event. And such an important memory deserves to be scrapped!
My husband and I had been renting since college and we loved our apartment but when our son was born, we started talking about buying a house. My dad took us to look at some model homes that were in a new subdivision in my hometown. We went to have a look and fell in love with the neighbourhood and our home!
There was no model home for it. All we had to go by was floor plans and "artist's conceptual drawings" but we just knew it was the one for us. It had two-storeys, three bedrooms, two baths, attached garage, a "country style" front porch, and a big backyard! We would have GRASS!! We were sold!
Only problem was, we were 25 years old and had no money saved for a downpayment. It just wasn't going to be possible. But my mom and dad, just like every other time in my life, stepped in to help. It would be a year before the house was built on the lot we wanted. So my parents offered for us to move in with them for the year to save the money we needed.
So we gave our notice at our apartment and four weeks later we moved into my parents. It took some adjusting, we were used to being on our own, but my mom and dad couldn't have been more welcoming. Our son just LOVED it, being able to see his Grandma and Papa every single day!! And I was so happy to be back in my hometown, with all my family close to us. The year flew by and we regularly visited our new house to watch it's progress (and take pictures of course). One of our son's first phrases (he was only 18 months old) as he would point at the construction was "Dat's Ben's Howsh"......that's Ben's house, LOL. We had so much fun, going to the decorator's to pick our cupboards, our carpet, our paint, even where our electical plugs would go!
On June 15, 2003, we recieved the keys to our new home. All our family were there to help us move in. It was truly one of the best moments in my life. I had such a feeling of accomplishment and was so proud to call this house our home.
Here is the page I scrapped, I'm so glad I found these photos!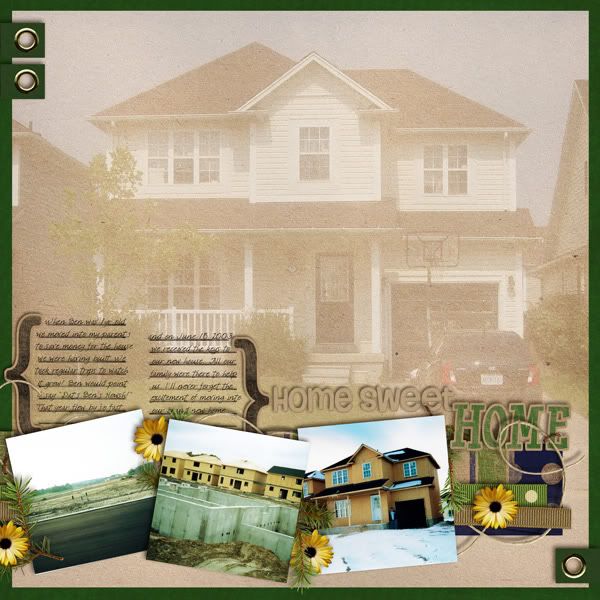 I used
"Let's Camp S'More"
and
"Chunky Chipboard Alpha"
by Chelle's Creations
What about you? What memories do you have of when you moved into your home? Were there any obstacles to overcome? How did you feel the day you moved in? If you haven't quite found "THE PLACE" yet, what is your dream home? What would it have in it, where would it be? Scrap about it!