Hi everyone!! Fiona here for another Memory Spark Monday! Well this weekend marks the unofficial end to summer here in Canada. School starts tomorrow and while I will definitely miss the hot weather I have to say that I'm looking forward to the fall. This was not always the case for me. I can remember as a child that I didn't like the fall. Fall meant the end of summer and I was a summer girl. I loved to be outside in the sun, swimming in our pool, playing in the sprinkler. I loved shorts and t-shirts, popsicles and ice cream. I liked sleeping in and staying up late. I still love all those things. But as I get older I find that fall is growing on me. There is just something about that fresh crispness to the air. The beautiful colours of the trees. The fall fairs. Hayrides and pumpkin picking. Corn mazes and crunching leaves. Warm sweaters and apple cider. In Canada we celebrate Thanksgiving in October so for me, fall also represents family time. And Halloween, I love Halloween! So although it's hard to say goodbye to the long days and summer freedom, I'm excited to welcome back the traditions and beauty of fall. I thought I'd scrap a page about fall, check it out:
I used Chelle's
Midnight Crow
and
The Cutting Edge
.
What do you love about fall? Or maybe you don't? What is your favourite season? Why? Scrap about it! and have a wonderful week!!
And speaking of Fall, Krisi made this freebie September desktop for you: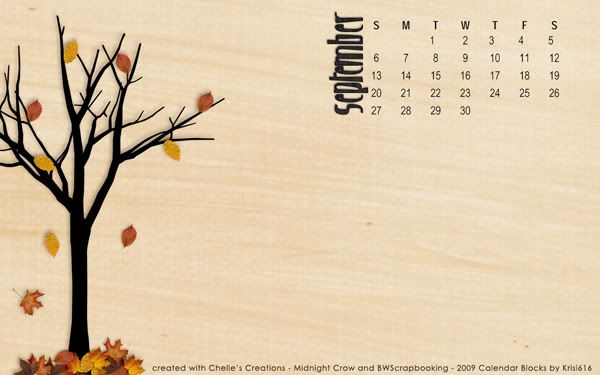 Just click on the image to get the 4-shared link.