Well, while it's Manic Monday over at ScrapMatters today, it's Memory Spark Monday here at Chelle's Creations. I'm Becca (becca372) here with you again as we start another week.
So...I got thinking about MSM (memory spark monday) recently, and realized that when I think of a "memory spark", it doesn't only have to be things from my past...it can just as easily be something from the now that will, in two week, two months, two years, or two decades, bring a memory back to the forefront. And that got me thinking about some little things in my life right now, and I knew my "memory" for right now.
For the past two weeks, I've been wearing this little pair of gold ballet flats. I got them almost two years ago, and they're nearly worn out. Now, honestly, when I got them, I thought I'd wear them ONCE. I needed a pair of comfortable shoes to wear at my sister-in-law's wedding reception. And I had to wear a banana yellow dress. I was so stumped about what color shoes to wear with banana yellow. I happened on these flats at Target, and got them fairly inexpensively, after weeks of scouring online shoe stores and department stores. I did wear them at her wedding reception. But I've worn them for so much more. They're perfect with jeans, with khakis, with little dresses. They're such a great neutral, but add a pop of shimmer or shine to just about any outfit. Two years later (my SIL's 2nd anniversary is in 2 weeks), they're about worn out. I need to find some new ones. These, though, are going to be hard to let go of.
How about you? Do you have a favorite pair of shoes? Your go-to shoes? Or a pair of shoes that, like me, you thought you'd never wear? Why are they your favorites? What have you worn them to? What do you wear them with? How do they make you feel? Take a minute to record your memories of those shoes, so that in two months, years, or decades, you can pull out those thoughts, and be transported back...all by a pair of shoes!
I was so inspired I scrapped my shoes...using Chelle's new
Building Blocks
,
Midnight Crow
, and just a touch of
Gingerbread
.I also used her
on the dot alpha
in green.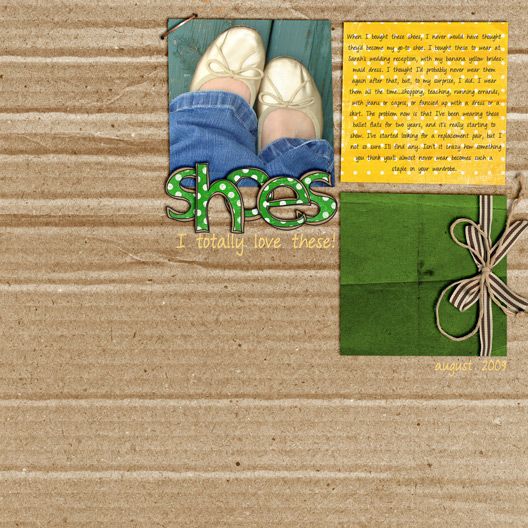 I think I've got to work on my journaling some more...but I'm much too tired this evening! Thanks for checking in with us, and happy scrapping! I'm looking forward to seeing some shoe LO's in the galleries!