Hello, everyone. This is Liz bringing you this weeks Sneak Peeks. And this week I have 3, yes, 3 sneak peeks for you. I know how excited you guys must be, so let's see what we have in store:

First up is something a little new from Chelle:

Very intriguing I know. This release is something that I think should be in everyone's stash. Something you need when you get into those scrapping ruts that seem to happen to everyone.

Next up, is this new product that I am personally in love with. As usual, Chelle has outdone herself and come up with a product that just works so well in so many ways. Here it is: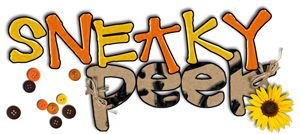 Can you guess what it might be? Hmmm, I wonder? And for the last peek, this might be a product that some of you recognize. If you don't, well then tomorrow is the time to check it out. It is the perfect product for all those fall LOs that I know everyone is or will be scrapping. Here it is:
I bet some of you recognize it this one! I don't know about you all but all these sneak peeks make me want to put on a sweater, sit in front of a fire and sip some hot mulled cider. Unfortunately, I have no fireplace and it is 85 degrees outside. Oh well, I will think fall thoughts instead. Have a great day and come back tomorrow for the big reveal!