Happy Sunday, everyone! Kendall here to bring you another edition of Sunday Spotlight. Today, we are shining the spotlight on one of Chelle's awesome CT members, Cara (colson)! I had the pleasure of interviewing Cara recently so that all of us could get to know her better. Here's what she had to say:
1. How long have you been digi-scrapping and how did you get started?
I started digi-scrapping in July 2009 after I saw one of my friend Maria's digi-layouts. I thought "I could do that too!"
2. What program do you use?
I use Photoshop CS4. I have it for work and I love using it. I actually am learning new things all the time!
3. Describe your LO style.
Hmmm...that's a tough one. I think I'm still trying to find "my" style. I try lots of different things, but primarily right now I'm a "stacker." I love lots of layers and elements stacked on a page. I stack so much that think if I was a traditional scrapbooker, I wouldn't be able to fit my real paper layouts into a book! LOL
4. What kit are you dying to use of Chelle's?
Have you already used it?
I was dying to use
Beary Cute Baby Girl
since my child is a boy. Luckily a week or so ago, I was able to make a project for Chelle using that kit, and I was really excited to use it!
5. What is your favorite layout using Chelle's products?
My favorite (wow, it's hard to choose!) is my Putting Around layout using Chelle's
Hole in One kit
. I love how it came together and it's a favorite memory of mine from summer at the lake.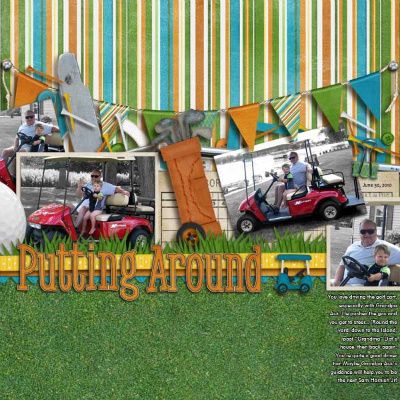 6. What is your favorite tip or trick related to digital scrapping?
My favorite tip... hmmmm. I'd have to say rotating and resizing elements and papers. I didn't know how to do that when I first started, and it was very difficult to do it my old way. Now I use Ctrl-T (the transform tool) constantly! He's my best friend.
7. What's one thing people might be surprised to know about you?
I'm adopted.
8. What is the one thing in a digi-scrap kit you can't live without?
SCATTERS!! If a kit doesn't have scatters, I'll go to another kit to find something and recolor it. It's a requirement on my layouts! :)
Thanks so much, Cara, for letting us spotlight you! Here's a link to Cara's fantastic
gallery
so you can take a look at even more of her amazing pages. And don't forget to check out
Chelle's shop
at ScrapMatters to see all the fab products Cara uses on her LOs.