Hi there! This is Diana (aka ngneer98). I'm a guest CT member for Chelle this month and am sad to see the month come to a close, but of course I'm excited about the holidays coming up! I'm doing the CT spotlight blog post for today and I picked Jan to stand in the bright glare of the spotlight! Since she's one of my favorite digi-scrappers, I was thrilled to see she hadn't been spotlighted yet! YAY!
Not only do I just love Jan's scrapping style, but I actually got to meet her about a month ago when I was in the DC area with the hubby for a conference. We had lunch and then went to one of the art museums, where we both completely missed the 'no photography' sign and got yelled at for taking pictures! OOPS! :D We had a great afternoon getting to know each other, so I'm super excited to spotlight Jan today.
1. What's your favorite layout you've done with Chelle's products?
This is hard to answer because I love using her kits so much. That's why I'm thrilled to be on her CT. But I'd say that it would have to be Finding Jack using All Hallow's Eve. It was for Liz's (mommy22girls) October Inspiration Point challenge and I just love the way it turned out.
2. What's the story behind your username?
I'm horrible with coming up with creative names, that's all. After my son was born in 1998 I found myself wanting to do more quilting. There was a fun project people were doing for the millenium called a Y2K charm quilt (no two pieces of the quilt are the same). You got the different fabrics by swapping with other quilters from around the world. Since I needed to be on the internet for this and needed a username, I came up with QuiltyMom because I was a quilter and a mom. Besides, QuiltMom had already been taken. Yeah - I'm so original.
3. What was the first digital layout you ever did? (if you still have it, can we see it?)
Holy torpedo factory, Batman. You really are a glutton for punishment, aren't you? Well, here it is. Please don't cringe too much! It's not the first one, but the first one from my first-ever speed scrap. Thankfully I've gotten better over the years.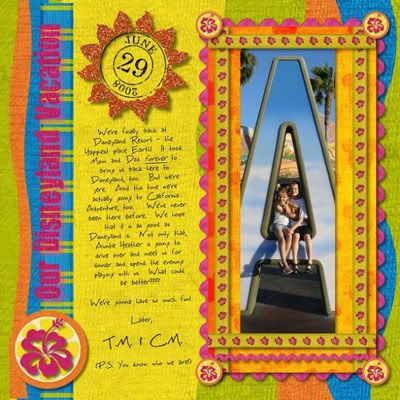 4. Is there any technique you're still trying to master?
Besides trying to come up with a page without using a template? I think it is trying to come up with a layout without using a template. I really struggle with that.
5. If you had to use 1 element 20 times in a layout, what would it be and why?
Eek! Twenty times? Definitely not hearts. Not brads (why are they in kits I've always wondered?). I bet photos don't count, either. Well, it will have to be ribbons and strings. I like the curly ones. But I don't think I've ever used any element twenty times, except for photos!
6. Anything else you'd like to share?
I use StoryBook Creator Plus and love it. It's so simple to use. I just love scrapping, both paper and digi. And my best tip to people just starting out, or who want to learn to do something better is to scraplift. Imitation is a fantastic way to learn. Try to copy everything just as it is. And it's also a good boost when the old mojo has taken a vacation. I guess that's about it.
Check out Jan's gallery at ScrapMatters
here
, and leave some love for her amazing layouts!