Good Monday Morning. It's Shanell Here with a great way to express our thanks this Thanksgiving week. I had a great time during DSD weekend. One of the things that I loved were the SAT's (Scrap-A-Thon) challenges. One challenge was to ask someone questions, like an interview. Well, I didn't get it done during the challenge, but I really wanted to do it and thought I would share with you. I asked my daughters something that they loved about their dad. I love how it turned out and so does my Husband.
I used Chelle's Beary Cute Boy (I was so excited to use it since I don't have any little boys running around) and Newsies Alpha.
Your Challenge today is to scrap about what someone in your family, or YOU, loves or appreciates about someone else in your family. I asked all my girls the same question: What do you love about your Daddy? I tried to write it just how they said it. For example, Eliza said she loved watching "basefootball" I didn't want to correct her, it was perfect just how she said it. So, find someone or a few people to tell you what they love about your family...count your blessings this Thanksgiving.
Karen (merchi) asked her kids what they love about each other. I love that they both said they like that they have the same eyes. She used
Chelle's Doodled Borders
and the kit from the Tell Me More Journaling class.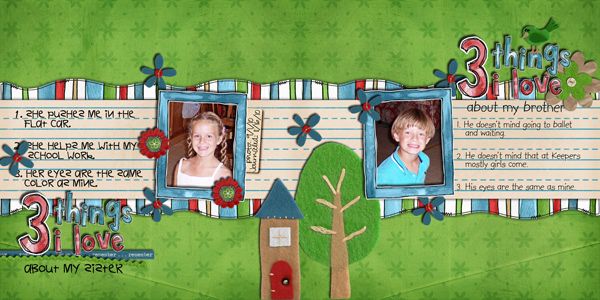 I really hope you'll take the time to be Thankful this week, even if you aren't in the USA. There are always so many things that we can be grateful for. Remember to upload it to Chelle's gallery if you use her products!
Speaking of being grateful, I am grateful for the family that I have that live so close. On Thursday, we will go to my Aunt and Uncle's house. There will be about 60 people. That's missing some too. We are always needing some activities to keep the kids entertained during the final dinner prep time. I made this for the kids to put together and wanted to pass it along to you. We are very grateful for all of Chelle's fans. I used
Chelle's With Thankful Hearts
to make a Blessing Mix.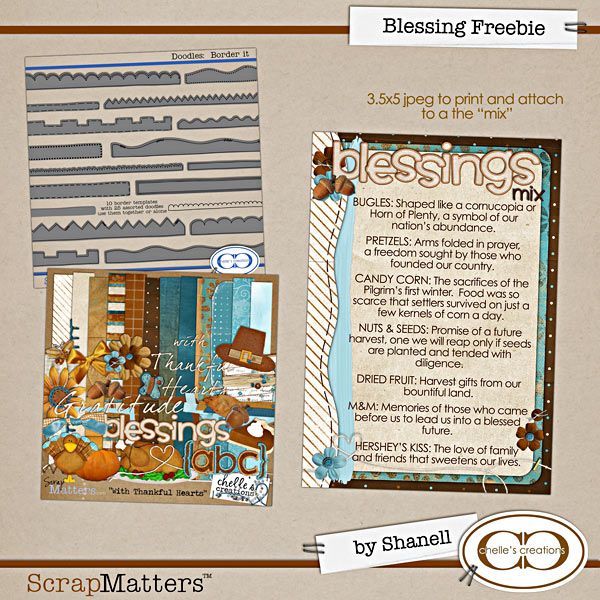 You can download it
HERE at 4 shared
. It also includes a page to print 2 on a 5x7. Enjoy your week and I can't wait to see all the blessings/thankful pages in the gallery!