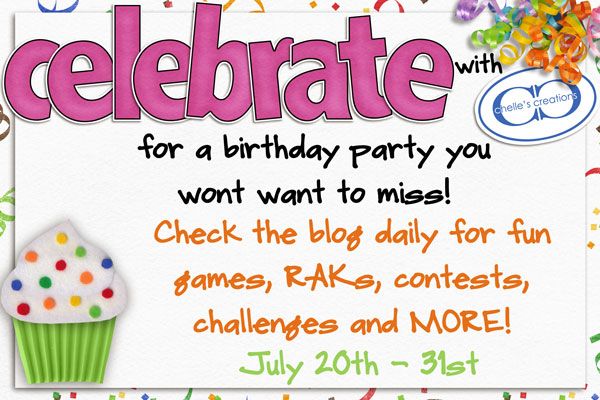 Hi everyone!! My name is Carol (ca_padgett) and I am a guest CT with Chelle's Creations. Looks like I made it just in time for some awesome fun! I am here with day 3 of our birthday celebration and I am so excited!!! I just love the kits Chelle made and I got a little carried away, lol. I have made lots of goodies for you guys. But before I show you, remember to keep coming back each day until the end of the month for lots of fun games and giveaways. You can even win some of Chelle's Creations awesome products. Ok, now for what you'll be getting from me today:
2-6x4 Brag book pages made with Celebrate Bold
2-6x4 Brag book pages made with Celebrate Brite
And last but not least word art using both kits:
You can
download
all three in one file:
Here
I hope everyone is participating in Emma's template challenge. There are wonderful prizes to be won and you don't want to miss them. Remember to keep checking the blog everyday. I've seen what you will be getting and it's spectacular. These ladies are very talented!!!